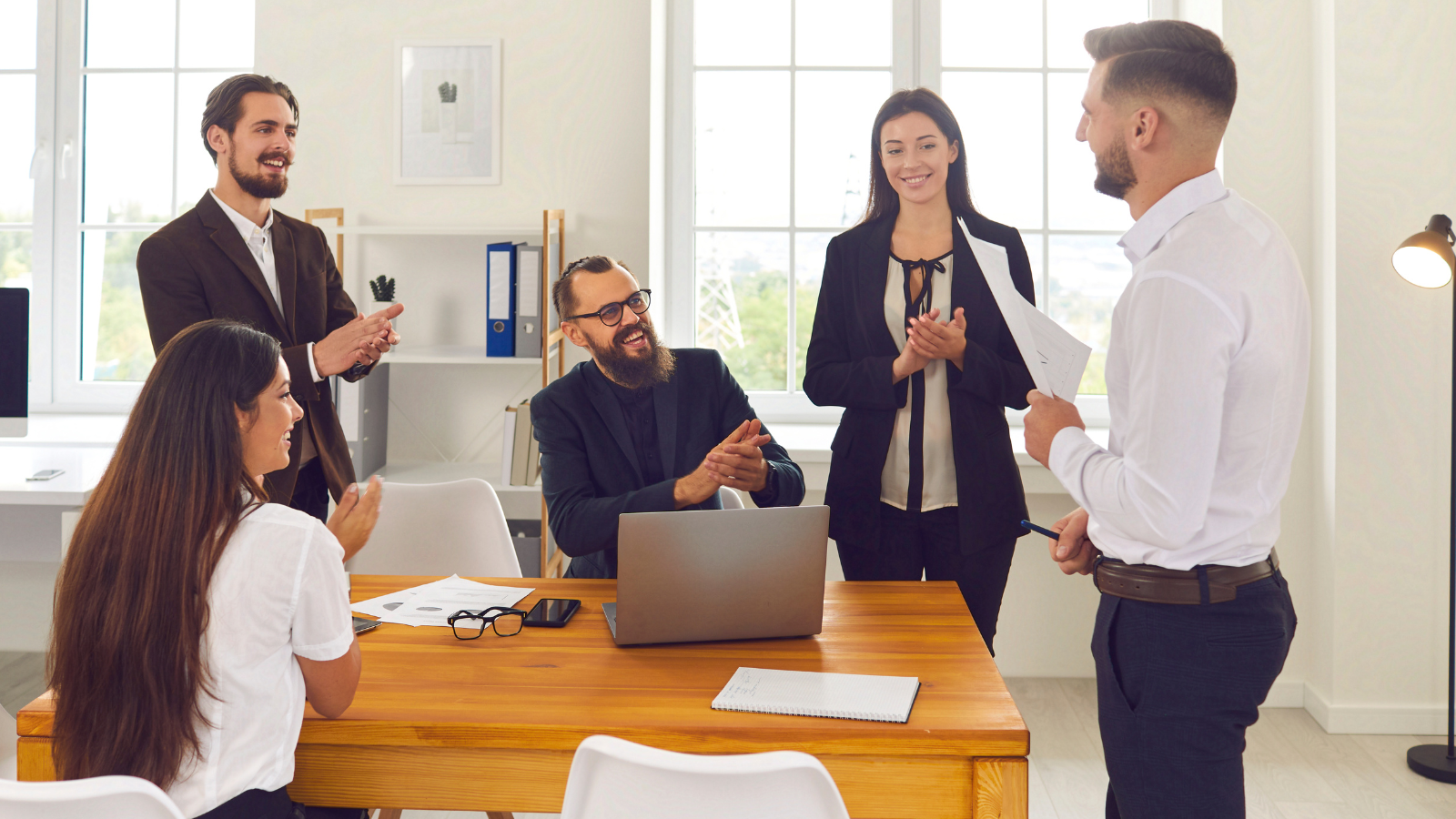 If you are looking for ways to transform your workplace culture, a great place to begin is by providing more employee recognition to others.
Recognition is a powerful tool in the workplace that can drive engagement and boost morale. Employees who feel appreciated for their hard work enjoy validation from their leaders for their contributions. Acknowledging someone for who they are and what they do to strengthen your company leads to more productive and happy employees.
When you recognize the efforts of others, it can make work more meaningful and strengthens the commitment someone has to you as a leader.
Why Aren't Managers Providing More Recognition in the Workplace?
Scary enough, according to Up Your Culture's Engage 2023 report, only 1 in 4 (27%) employees receive feedback 4 times a year or less. If we know that recognition allows people to feel their work is valued and appreciated, and boosts morale, motivation, and engagement, then why aren't managers providing it more often?
One reason could be that managers themselves are not receiving recognition for their efforts either. Engage 2023 uncovered that only 36% of managers are satisfied with the recognition they receive at work. That is a pretty low number and tells us that managers need feedback too.
Imagine if a manager were to receive recognition for a job well done by their leader. The acknowledgment lets them know they are on the right path and hopefully creates a habit for them to do the same with their direct reports. A positive domino effect may come into play, one recognition at a time.
If you are a fan of the show Ted Lasso, you know what an inspirational and motivational coach that Jason Sudeikis' character Ted is for the team. Yet like many leaders, Ted misses the mark from time to time.
A great example comes from the season two season finale. Throughout the first two seasons, Nate Shelley has gone from someone Ted promoted from the team's kit man to their assistant coach who, through that journey, felt recognized by Coach Lasso. Once he was promoted to assistant manager, though, he was someone who felt unseen and underappreciated.
Nate's anger grew from episode to episode, while Ted ignored it. When Ted finally asked Nate why he was angry, Nate's response was valid. Nate didn't feel important or valued after his promotion. He couldn't assume how Ted felt about his performance as an assistant coach without Ted telling him.
Being promoted wasn't enough. He needed and wanted consistent feedback and recognition to grow, not the assumption that the promotion showed his value. A great leader and coach should know that his employee needed more recognition to feel validated.
More than ever, there is a widespread desire for greater recognition and rewards in the workplace. This lack of acknowledgment can lead to a feeling of disengagement, demotivation, and even attrition.
When people receive recognition, great things begin to happen
They want to repeat those behaviors
Their productivity increases
They are more loyal
They are happier at work and in their personal lives
Both personal and professional stresses are reduced
They build trust with their manager
Overall morale is higher
Recognition shows you care and are paying attention to the actions of others, and are invested in their achievements. So, how and when should you provide it.
1. Understand that each person you manage is wired differently.
This means everyone has different preferences for how they want to be recognized and what type of support they need from you. The best way to know what they need from you is to ask them.
2. Don't assume they know how you feel about their work.
People can't read your mind, so make sure you share how important they are to you and your business. Provide specific examples of what you appreciate about their contributions. Stay away from just saying, "Good job."
3. Show appreciation.
Share recognition through internal emails, social media shout-outs, meeting announcements, handwritten notes, surprise deliveries, and video messages to name a few. However you share your appreciation, think about what would be most meaningful to that person.
4. Not a one-and-done.
Make a habit of recognizing others. Whenever you notice something, share it with them. Don't wait to stockpile your acknowledgments of how important their actions are; share often and in the moment. The length between preferred recognition varies by person. Some people may need it weekly, others monthly. Whatever their preference, pay attention and give it!
5. Not sure what to recognize?
Start by recognizing the person, not just their performance. This could lead to more spontaneous shoutouts for recognizing when they are living by your company core values, working well with a team on a project, taking the initiative to work on something outside of their role. Just start with the basics and continue to add to your habit of noticing positive behaviors and performance.
6. Celebrate employee milestones.
Celebrating work anniversaries and important events helps employees feel appreciated for their loyalty and dedication.
Conclusion
In conclusion, recognition is an important tool in the workplace that can drive engagement, boost morale, increase productivity, improve retention, and enhance your company's brand. Leaders who prioritize recognition and make it part of the workplace culture are likely to see significant benefits in employee engagement and overall success. Start creating your recognition habit today. It will pay off for you almost immediately.