Are you curious how your company's culture measures up in each of the four areas that lead to employee engagement?
Wondering if you have an opportunity to Up Your Culture?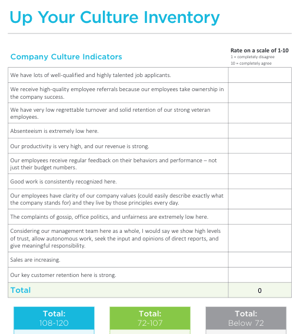 This self-inventory checklist will only take a few minutes but could help you make a long-term impact on engagement and productivity.


There are four distinct themes that separate the most highly-engaged organizations from those that lack engagement. We call these four areas the Engagement Elevators because when company leaders are focused and intentional about doing good work in these areas, they can significantly lift or elevate employee engagement.


This self-inventory will help you identify where you are naturally doing well and where you may need to focus your attention to "Up" your culture and "Elevate" engagement.


Complete the form to access the Up Your Culture Self-Inventory Checklist, and take a few minutes to complete it and reveal how your observations impact your own company's level of employee engagement.