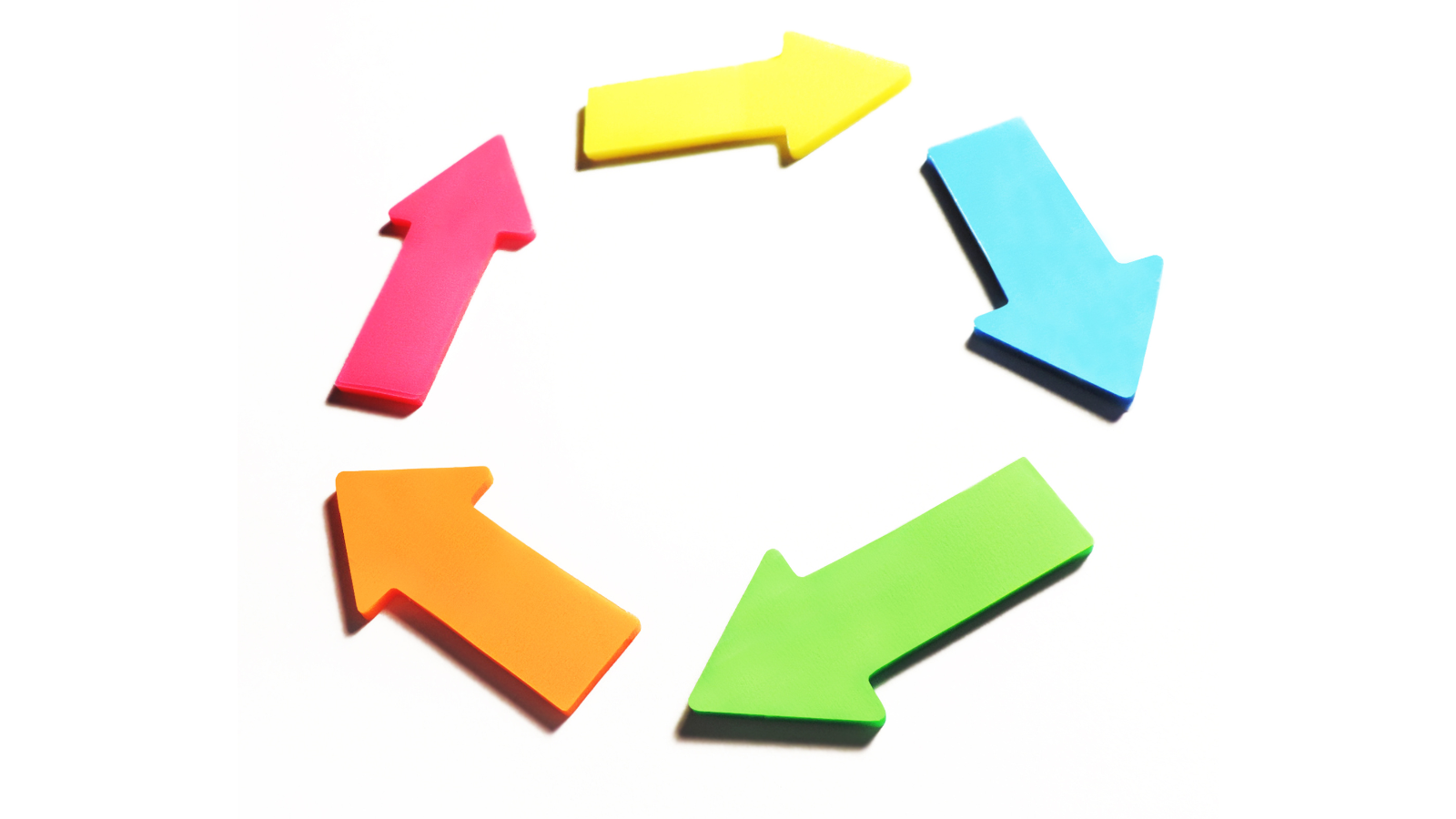 Culture is demonstrated by the way employees work together every day. It includes your team's values, beliefs, behaviors, and environment. A strong culture cultivates people who feel like they belong, have a chance to contribute to ideas and see their ideas put into action.
Every company has a culture, whether it's purposeful or not. If you sense that your company culture isn't where it should be, it's time to do something about it. Our Up Your Culture Cycle identifies the keys to improving and maintaining strong company culture.

Lead by Example
The thread of culture is woven into everything your organization does. It relies on the participation of a lot of people, but culture truly starts with the leader.
To be a manager is to hold a job title, but to be a leader is to share a vision that motivates others towards a common goal. Where do you see your company in the future and how are you going to get there? Provide a clear roadmap for your employees and motivate them to make this vision a reality. Use your company's core values to guide them along the way.
We often use the analogy of a wave at a stadium during a sporting event. It takes one person to start the wave, but as it moves down the line, more and more people join in. Eventually, the whole stadium is involved. Be thoughtful in your strategies and implementation to ensure everyone's ready to jump out of their seats and participate.
Craft the Candidate Experience
Just as culture exists within, it also exists externally.
Your company culture is your personal "brand." Candidates applying for jobs are attracted to companies exuding strong culture. Consider how to market your "brand" on social media sites to gather a strong candidate pool. Instead of laying out a mundane job description, highlight non-negotiable traits you're looking for in a successful candidate.
For example, "Do people often compliment you on your contagious energy? Are you persuasive by nature? Do you have a keen eye for detail and quality?" Candidates who align with those traits will read your post and think, "Yes, I do! This job may be the right fit for me."
It's not enough to advertise your brand online. Exemplify your culture to anyone walking through the door. Candidates interview your company culture, just as you interview them. Consider assigning one of your team members the job of "Culture Ambassador." This team member can greet your candidate at the door, give them a tour of the office, and answer any initial questions.
Patty McCord, former Chief Talent Officer at Netflix, said, "Our goal is for every single person who comes in for an interview to walk away wanting a job, even if we hated them." Imagine the strength of your culture when you have the ability to impress every single candidate who interviews at your company.
Hire for Talent and Fit
Hiring a candidate is a large commitment! The right candidate must have both innate talent and a culture fit. One without the other simply won't do. At our parent company, The Center for Sales Strategy (CSS), we use the growth formula to illustrate this: (Talent + Fit) x Investment = Growth.
The best way to identify a candidate's talents is to have them complete a validated talent assessment. A talent is someone's innate ability. Skills and experience are acquired over time, but talents don't change. Identify the talents a candidate must have to be successful in the job you're hiring for and make these talents a requirement.
A candidate who has the right talents must also be the right fit. They need to align with your culture, your core values, and your vision. As a leader, you must ensure they're the right fit for your management style as well. Organizations are collections of people. It's important to remember that each person you bring on board will either add to or detract from your culture.
Coach for Growth
People crave growth and development. If we aren't growing, where are we going?
Provide regular, effective feedback and conduct frequent culture check-ins with your team. Be open and transparent in your communication to understand what each individual needs from you to be successful. Inquire about their goals and aspirations, and let them know the role you see them playing in the future success of the company.
We recommend using a tool such as the Growth Guide within the first 90 days of someone's employment. It will provide you with a strong roadmap to get the conversation started.
Consistency
At the heart of it all is consistency. Persistence will help you obtain the culture you want to have, but consistency will ensure you keep it. Hold yourself accountable to consistently reinforce your culture in all that you do. Remember, culture truly starts at the top.