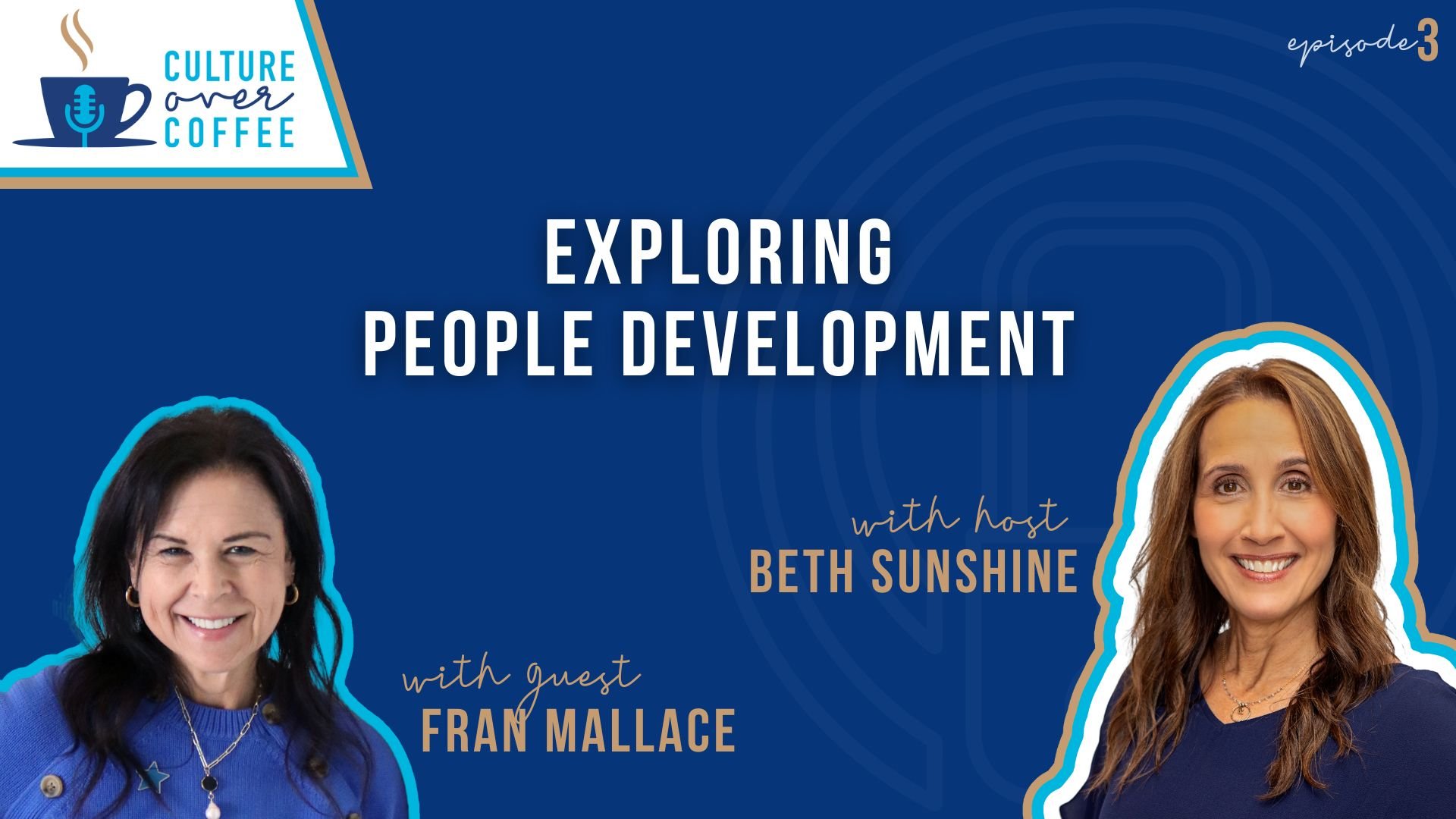 In this episode of Culture Over Coffee, we continue our exploration of each of the Four Engagement Elevators, which means that we're "going up" to elevator number 2: People Development.
This is the elevator where managers care about their people, build individualized relationships, transparently share information, coach both strengths and weaknesses, and provide meaningful feedback.
And one of the best "People Developers" we know is Fran Mallace, President and CEO at Make-A-Wish Arizona.
Fran brings a ton of great points to think about, including:
The importance of creating a culture that celebrates risk rather than punishing failure.

How we often make the mistake of assuming our employees know that they're doing a great job.

And why diversity of thought can go a long way in creating a strong company culture.
The Importance of Individualized Development Plans
When asked for the best ways to go about developing employees, Fran first takes a moment to mention that leaders can't just talk about growing their employees. They need to follow through.
"You have to make sure you really are intentional about it," she says. "So, you can't just say it; you actually have to have the actions that prove it."
Fran explains that she makes excellent use of Individualized Development Plans (IDP's). Utilizing these plans allows employees to see exactly how they can grow within their organization.
At Make-A-Wish Arizona, Fran says, "Our employees want to know how they can tie back into the community. They've picked nonprofits for a reason because it's so important to them. But [their growth] has to tie back to everything they're doing. And having an IDP allows them to see where they can grow."
Developing each employee's IDP really helps home the "how" and the "why" of each individual's growth so that a path forward can be formed.
"We created a path, a kind of a journey for them. So we've said, 'gosh...if a title is important to you, what are those responsibilities that come with it?'"
"And it's not so much the title as it is the responsibilities, building the different levels and showing them...what they need in terms of what's next for them."
And don't count out the immense growth opportunities that can come from areas that may be "non-traditional" for your industry. In Make-A-Wish's case, this means finding mentors for their employees outside of the non-profit space.
"So, [we try] bringing in and introducing things that aren't your traditional growth opportunities. We join the Chamber of Commerce. The Chamber has events and mentorship, which I think is key."
"Every single one of our employees now has a formal mentor."
"It's expanding the possibilities for them with very corporate type businesses."
Create a Culture that Embraces Mistakes and "Do-Over's"
When it comes to coaching employees, Fran says, "Feedback is a gift."
"You have to let people know when they're stubbing their toe. Like it's okay...you make a mistake, what did you learn from it, right? Celebrate that you actually made a mistake and you took a risk and create that culture and environment that allows it to be a safe place."
If employees find themselves in a work environment where they actively fear blunders they haven't even made yet, almost all growth will be stifled.
"They're going to just get stuck...So, you've got to have that balance of making sure they know exactly what's occurred. And a lot of times, they probably know anyway, and it's not, you know, berating them."
"It's actually saying, 'all right, you know what happened? You know, what are you going to do differently next time? Or you know, if you could, if you had a do-over, what would you do differently?'"
Fran also emphasizes an aspect of feedback that too many leaders can easily forget.
"We assume people know that they're doing well, that they're doing a good job.
"But what I have found over the course of my career...they're not always able to put their finger on exactly what it is they're doing that is leading to success."
Hire for Diversity of Thought and Get Out of the Way
"We always used to joke, hire people smarter than you," Fran says. "It's different now."
"Hire people that really bring different things [to the table]. Don't be afraid to hire someone that's really very different from you, and make sure you've got a diversity of thought."
"I think we do get stuck that we like people that are just like us."
And once you find yourself leading a team with a diverse set of talents and skills? Let them perform the job you hired them to do.
"Micromanaging, I've seen it everywhere. It stifles everything."
"It doesn't make you feel good about what you're doing, and that's where you build that trust. You build that trust because you let people do what they need to do to get the job done."
And you know what? A lot of the times, they do it even better than the way that you thought that they could do it."