Not long ago, I spoke with two leaders from a top-notch company enrolled in our Up Your Culture program. The purpose of our conversation was to help them find ways to create a strong sense of unification employee engagement across their multiple markets.
They know that companies with highly-engaged employees are 17% more productive and 31% more profitable, and they recognize that those with strong levels of engagement enjoy 26% greater annual increases in revenue and 233% higher customer loyalty (yes - you read that right)!
They're doing great stuff over there, but they wanted to focus specifically on how they can increase engagement by creating a strong sense of "tribe."
Simon Sinek talks a lot about tribalism and how human beings naturally band together as a group for a sense of safety and belonging. I preach it, I teach it, and I believe it. But, a few weeks ago, I had the opportunity to experience it! So I shared this short story with our client, and now I'm going to share it with you.
The Role of 'Tribe' in Real Life
My husband own a Jeep, and I am finding myself attending things I didn't know even existed — like Jeep Jamborees! We recently went to an event with some friends in the Palo Duro Canyon, which is where I received the greatest lesson on tribalism I could ask for.
Here are some things you should know:
150 Jeeps were allowed to participate, and we were placed in 10 groups of 15 Jeeps.


Every group had a color, and we were in the purple group.


Every Jeep also had a CB tuned to their group channel so the group could talk to each other, ask for help when needed, and cheer each other on through the treacherous stuff.


Every participant was given a flag to hang on their antennae signifying their group.


The purple flags didn't arrive.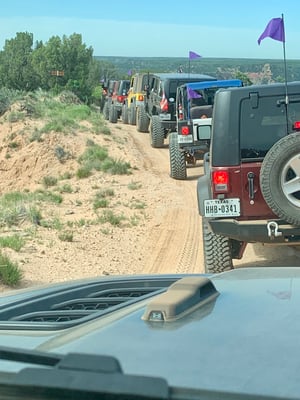 It was a two-day event.
Day one, we met everyone in our group and had a really good day. We had strong trail leaders, a shared purpose, and a strong communication channel, but there was not a lot of interaction between any of us on the CB. Nice people for sure, but I realized at the end of the day, that I didn't know a single person's name.
Day two, the purple flags arrived! When we lined up bright and early that morning, the trail guides came around to each of us and put a purple flag on all 15 of our Jeeps. Seems pretty uneventful, right? But suddenly, over the CB we started hearing things like, "Watch out purple group, steep drop-off on the left!" and "Hey purple group – anyone else want to go through the water?"
At lunch, someone created a text group and named it "Purple Power" so we could share photos, and it was only a couple of hours into the day before teasing and playful bantering began to flourish. By lunch, I knew everyone's name and had already exchanged Facebook info.
The Role of 'Tribe' in Company Culture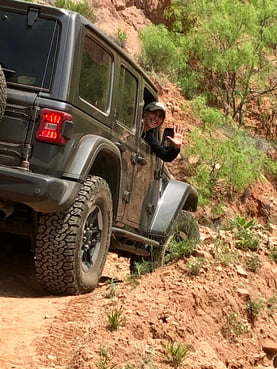 Our Culture Coaches teach businesses how to create a culture of engagement, starting with principals like strong leadership, shared purpose, establishing strong communication, and building a sense of tribe.
We had the first three of those things at the Jeep Jamboree from the moment we arrived, but we didn't have a sense of tribe. Sometimes, it's the littlest things that make the difference when it comes to building a tribe though, and I'll tell you, those purple flags really did the trick!
It's important to note that at no time did anyone say anything like, "Okay – now we have purple flags on our antennas, so let's act like a cohesive group." It just happened.
Think about your place of business - what are your purple flags? What can you do, big or small, to create a strong sense of belonging and create that indescribable sense of tribe?