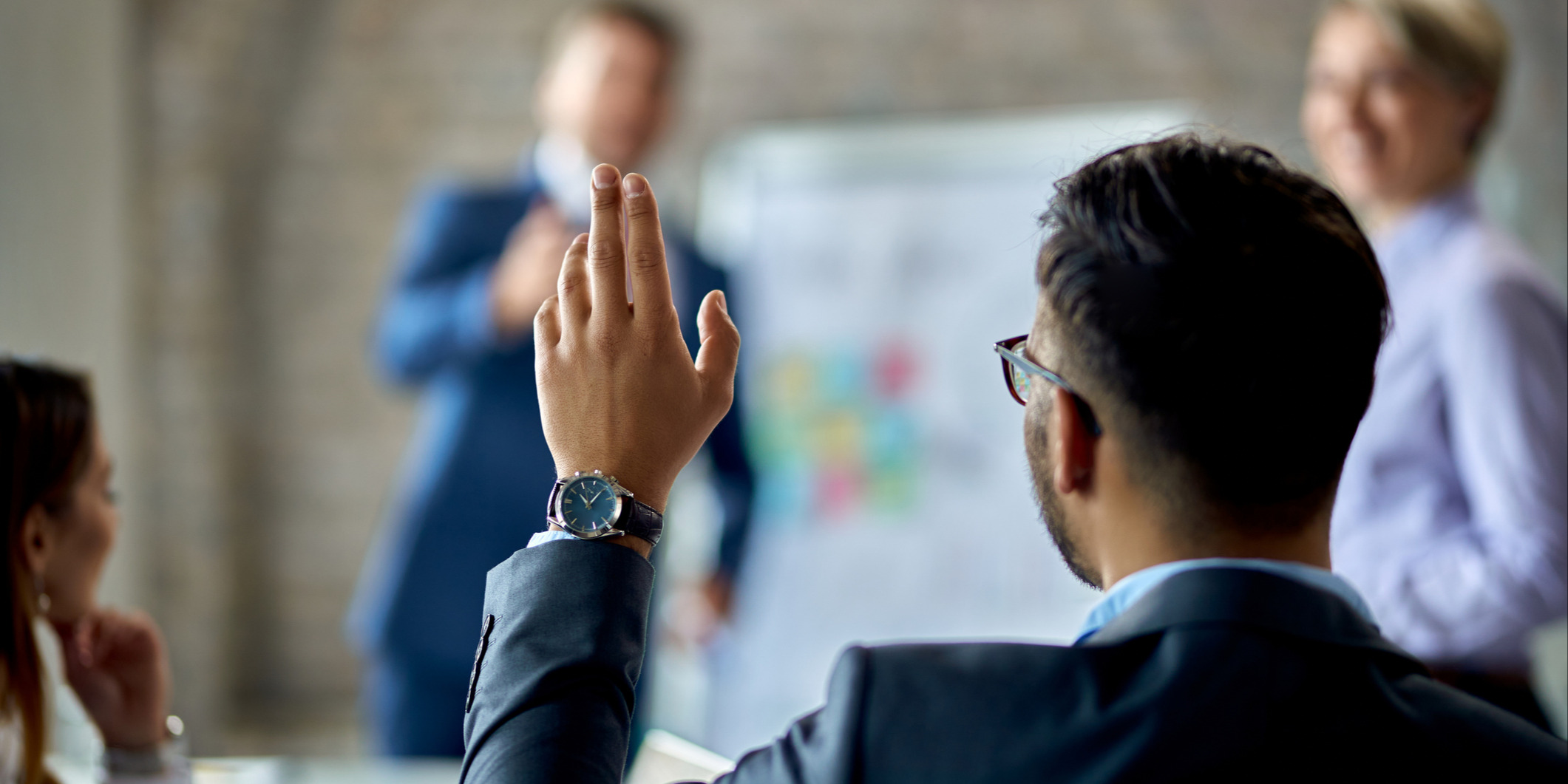 The Townhall Meeting, or "ask me anything" meeting, is a critical part of creating strong employee engagement.
These meetings bring all of the employees across a company together with the purpose of discussing important topics and aligning everyone to a common north star.
Don't think of these Townhall Meetings as a platform for management to speak to the employees. Instead, consider them a highly interactive way to promote two-way conversations between managers and employees.
9 Ways to Make Your Townhall Meeting More Engaging
A great Townhall Meeting brings your team together, gets the community talking, surfaces issues that need to be addressed, allows employees to get to know their leaders better, and allows leaders to take the pulse of the organization.
Here are some ways highly engaged companies have created a Townhall Meeting that employees look forward to:
1. Invite Everyone
This meeting should feel entirely inclusive. Consider inviting part-time employees as well so they are fully aligned with the mission.
2. Schedule Meetings at a Regular Cadence
These are not "emergency all-hands meetings" but rather planned meetings designed to drive engagement, share financial information and other important company updates, and most importantly welcome questions.
Consider scheduling these bi-annually, quarterly, or annually.
3. Gather Questions in Advance
Many people aren't comfortable asking questions in an open forum. Make sure you're addressing what is on everyone's mind by welcoming question submissions in advance. Further increase their comfort level by allowing the submissions to be anonymous.
4. Start With an Icebreaker

We have found that asking questions at the beginning of the Townhall Meeting can lower people's defenses, put everyone at ease, and encourage more interaction throughout the meeting.
The questions should set the tone for each specific meeting, so if the Townhall agenda is light-hearted, you can ask questions like, "What are you binge-watching" and show the results in a word cloud.
If there are tough subjects on the agenda, the questions should serve to ease the tension. Something like "what is your mood coming into this meeting" would form a valuable word cloud and allow for a clean start.
5. Set the Stage
Determine the focus of this meeting and share that in advance.
For example, if the meeting is going to focus on sharing engagement survey results and discussing what you learned and what you are going to do about it, state that up front. The CEO, President, or another member of upper management should open the meeting with their sincere observations and remarks on the area of focus.
6. Create Alignment
This is the perfect time to discuss your mission, vision, and established goals in a way that closes the gap between employees and management. Consider including a "state of the state" segment to share information in way that ensures everyone hears the same thing at the same time and can ask questions to ensure understanding.
7. Keep It Short
Scientist have determined that people can only pay attention for 10-18 minutes on average without tuning out. Keep your meeting as short as possible and build in quick brain breaks as necessary to keep people fully engaged.
8. Bring Your Core Values to Life
You identified your core values, which define the "rules of the game" there, and hopefully, your employees demonstrate those values every day.
Use your Townhall Meetings as an opportunity to bring them to life and recognize those who are living them. Talk about them, share positive customer feedback your leaders have received, celebrate success, and allow for individual shout-outs!
9. Earn Their Trust
Townhall Meetings, when done well, create feelings of openness and transparency. Employees leave them feeling informed and included and over time, more engaged. Reinforce this by responding to all of their questions in an upfront and honest way. There may be things you are unable to share but provide as much clarity as possible.
Creating Transparency in the Workplace
Workplace transparency helps set the stage for employee engagement — the essential element of a positive and productive workplace culture. Without it, it's hard to imagine being able to build sincere trust amongst the employees, teams, or departments.
A great way to start with transparency, and increase psychological safety in the workplace, is to start hosting regular Townhall Meetings with an "ask me anything" atmosphere. Remember, the goals of this meeting are not to present information, but to encourage a two-way dialogue so that everyone feels connected and involved.