Guide, inspire, and rally your people to achieve greater success by creating a strong sense of Purpose and Passion!
The Great Resignation of 2021 has awakened business leaders to the power of culture! It created a universal understanding that a stronger culture allows businesses to recruit and retain the best people in the world and successfully navigate the most challenging business conditions.

During this reshuffle, companies with a strong culture have been 3 times more likely to retain their employees, and they have also been targeted by 94% of those looking for a better option.

A lot goes into building that kind of a culture, but it all starts with a Shared Mission that gives employees a strong sense of purpose for their work and passion to make it happen. This is the ideal time for every business leader to consider how to they can create a strong sense of purpose to power their people and the values they need to guide their mission.
ABOUT THE WEBINAR
This free 30-minute on-demand webinar led by Beth Sunshine will give you what you need to start creating a compelling Shared Mission that will power your people through 2022.

It will help you understand why only 16% of employees feel connected and engaged at work right now and then provide you with your next steps to make sure your people feel that connection. At the end of this webinar you will have a better understanding of how to build the kind of environment that attracts and retains the most talented people!
ABOUT THE PRESENTER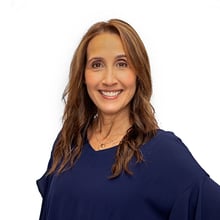 Beth Sunshine | Partner, Employee Engagement Specialist, Culture Coach
Beth recognizes that business performance begins with hiring top talent and providing top-notch training. But she also knows that you can't stop there because if employees aren't engaged, they won't reach their full potential. Her personal mission is to help organizations close that engagement gap which is why she leads our Up Your Culture division. Working with our team of experts, Beth is able to help companies create a culture of engagement, reduce regrettable turnover, increase productivity and revenue, and grow key customer retention.