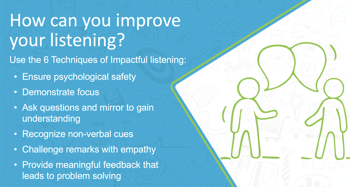 Unleash the power of impactful listening to drive collaboration, understanding, and innovation.
This kit is your roadmap to fostering a culture of empathy and effective communication within your organization.
What's Inside:
Impactful Listening PowerPoint Presentation: Guide your team through our immersive presentation that explores the nuances of impactful listening.


A Full Script: This workshop is equipped with a full script (located in the presentation's notes) that provides insights, key discussion points, and facilitation tips, allowing you to guide meaningful conversations and address questions effectively.


Three Dynamic Activities:

Differing Viewpoints:

Th

is activity

helps participants recognize and appreciate diverse perspectives while

maintaining

respect.


Jigsaw Puzzle of Knowledge - Building a Complete Picture:

This activity encourages members to become experts in their assigned area and then collaborate with others to construct a complete understanding of the topic.




Back-to-Back Drawing: This activity enhances communication skills, practice active listening, and develop a deeper understanding of the impact of clear instructions and interpretation.
Complete the form on this page to access the Impactful Listening Kit now.